Skip to Content
Repairing and Replacing Shocks and Struts
Keep your car, truck, or SUV's shocks and struts in top condition to prevent damage and danger and ensure your vehicle's overall safety and performance. Carney Tire Pros in Parkville, MD offers shock and strut repair and replacement services at our auto repair shop. You might be stuck with a rough ride if you have worn shocks. Bad shocks can also cause your tires to wear unevenly and affect your braking time. Avoid putting yourself and passengers at risk by getting your shocks replaced by our experienced technicians and mechanics. Driving on bumpy roads can wear out or damage your shocks and struts. We repair or replace these components to ensure your safety while driving. Learn more about our automotive service and schedule professional care today.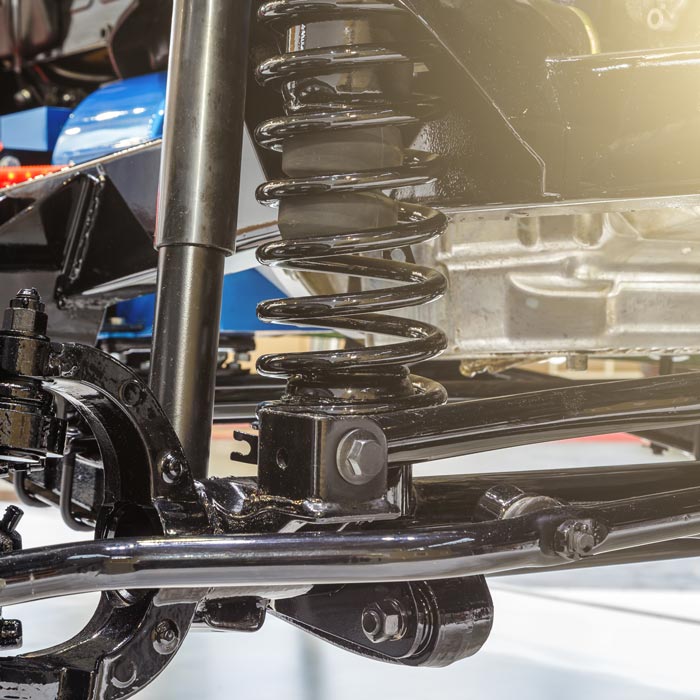 What Makes Shocks and Struts Different?
Shocks and struts are often lumped together in conversation, but what is the difference between these two automotive components? Carney Tire Pros wants you to understand your vehicle and the work we perform to keep it in top shape. We have described shocks and struts to help you learn more:
Shocks – These components are also called shock absorbers, and they keep your vehicle from bouncing up and down while you drive. Shocks also improve how your vehicle handles and protect expensive and inflexible parts from damage and wear. These shocks absorb force caused by dips, bumps, and potholes in the road. You will feel every bump in the road as your shocks wear out. We can perform a shock inspection to verify whether they need replacement so that your car, truck, or SUV drives like new again.
Struts – Automotive professionals invented struts for lighter, smaller vehicles utilizing front-wheel drive to absorb some of the bumps you experience while driving. These components also work to maintain your vehicle's proper height, and you can find them where the body and chassis connect. Auto shops may sometimes use struts to perform minor alignments.
Auto Repair Services by Trained Experts
You can save money and avoid significant vehicular damage by undergoing a relatively simple automotive service called shock repair. Carney Tire Pros has a team of skilled and experienced technicians and mechanics ready to repair or replace your shocks and struts, no matter what make and model you drive. We include a shock inspection and bounce test in the process. You should have your shocks and struts inspected every year at the very least to ensure safety and comfort.