Skip to Content
Tire Services (Repair, Rotation, Balancing)
Tire Services for Safe Driving
Your vehicle cannot go anywhere without tires. Carney Tire Pros has your tire needs covers in Parkville, MD with various tire services, including repair, rotation, and balancing services. You could have a flat tire or uneven wear on your treads. Our trained and experienced team of technicians and mechanics will correctly complete your essential tire service to keep you driving safely. We minimize downtime whenever you have an issue with your tires by providing fast, quality tire repair. You can rely on our affordable tire services for cars, trucks, and SUVs in any make and model. Discover more about our collection of tire services and schedule service at our shop today.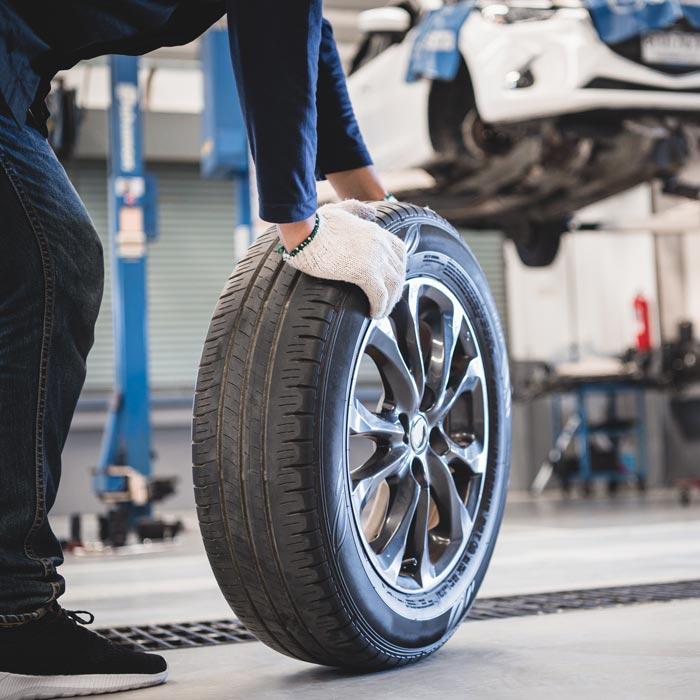 Local Tire Service Professionals
Carney Tire Pros has you covered with all tire service types. Our location also carries and installs tires from top name brands, such as Michelin® and Continental. Don't neglect your tires when you notice damage or signs of uneven wear. We are ready to help you drive safely.
Offering Tire Repair, Rotation, and Balancing
Carney Tire Pros has a team of tire professionals ready to provide you with tire repair, rotation, and balancing services. Learn more about these services below:
Tire Repair
You should never take a flat tire lightly. This problem can make you lose control of your car or cause severe damage to your vehicle. Let us repair or replace your flat tire, no matter the cause. Our services also extend to taking care of uneven tire wear.
Tire Rotation
Drivers should rotate their tires along with each oil change or every 3,000 to 6,000 miles. We proudly offer affordable tire repair services to vehicle owners, including tire rotations. This service helps your tires last longer, and we include a tire inspection to check for proper inflation, tread, and other essential factors.
Tire Balancing
You can maintain even tire wear and a smooth ride with computerized wheel balancing. Over time, the weight distribution around your tires changes, resulting in imbalances. Some common signs of weight distribution changes include steering wheel, seat, or floorboard vibration at fast speeds, poor fuel economy, and faster or uneven tread wear.
Complete Tire Pressure Monitoring System Service
The sensors in your vehicle are essential to keeping tabs on the health and functionality of different components, including the Tire Pressure Monitoring System (TPMS). Each wheel is equipped with a sensor that measures the air pressure level in each tire. If the pressure drops below a safe operating level due to a leak or very cold temperatures, a dashboard light will alert you to add air. Some cars will even tell you which tire is low. These sensors last for about 7-9 years, so if you notice a light stays on all the time or a TPMS dashboard light is flashing, visit us for complete service and sensor replacement.